The 'SPARK' & 'CARHART CHRONICLE' newsletters
'The Spark' newsletters originated way back when dirt was invented. The newsletters present a wide variety of topics relative to the automotive world of the day. The links to the side will provide you with a glimpse of our past as the Wisconsin Society of Automotive Historians saw the state of the automotive industry. The 'Carhart Chronicle' Newsletters carry on in the same tradition as 'The Spark' but with a little more flair and color thanks to editor Ralph Kalal.
Click on an issue below to view a 'SPARK' or 'CARHART CHRONICLE' newsletter as a pdf file.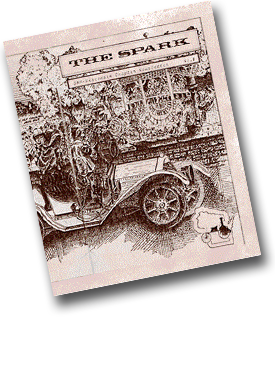 Spark Newsletters
1979 - Issue 01
1980 - Issue 02

Issue 03

Issue 04

Issue 05


Issue 06

Issue 07

Issue 08
1981 - Issue 09

Issue 10

Issue 11
1982 - Issue 12

Issue 13

Issue 14
1983 - Issue 15

Issue 16

Issue 17
1984 - Issue 18

Issue 19

Issue 20

Issue 21
1985 - Issue 22

Issue 23

Issue 24

Issue 25
1986 - Issue 26

Issue 27
1986/87 - Issue 28/29
1987 - Issue 30

Issue 31
1988 - Issue 32/33

Issue 34

Issue 35
1989 - Issue 36

Issue 37
1990 - Issue 38
1993 - Issue 39
1994 - Issue 40
1995 - Issue 42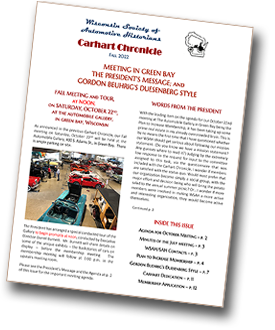 Carhart Chronicle Newsletters
2015 - Spring

Summer

Autumn

Winter
2016 - Spring

Summer

Autumn

Winter
2017 - Spring

Summer

Autumn

Winter
2018 - Spring

Summer

Autumn

Winter
2019 - Spring

Summer

Autumn
2020 - Winter

Spring

Summer

Autumn
2021 - Winter

Spring

Autumn
2021/2022 - Winter/Spring

Summer

Autumn