About Us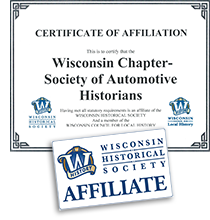 The Wisconsin Society of Automotive Historians (WSAH), in addition to being a chapter of the Society of Automotive Historians, Inc. (SAH), is a non-profit organization affiliated with the Wisconsin Historical Society (WHS).
The Wisconsin Historical Society is one of most active historical societies in the nation and was established in 1846, two years before Wisconsin became a state.
WSAH meetings are held three times a year, with established sites for the official Annual Meeting at the

Iola Car Show in July, at the Hill and Valley car show and tour in Cross Plains in September and in April at The Wisconsin Automotive Museum in Hartford, home of the Kissel. Other activities are varied and scheduled as they come about.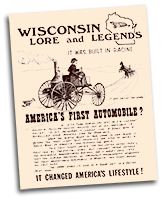 A few words about our WSAH logo, created in 1979: The "Spark" steam vehicle, developed by Dr. J.W. Carhart of Racine in 1871, is thought to be the first automobile in Wisconsin and, some say, in the United States. The silhouette was drawn from an early photograph and is set within an outline of Wisconsin. 
Wisconsin Lore and Legends, a regular feature in some newspapers. This article is for the "Spark" circa 1877.