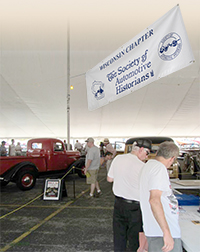 Our OLD Banner at the
Iola Car Show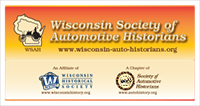 Our New Banner - 2016
WSAH is for history buffs and information exchange
Our project to do a video recording and interview of significant people, places, and vehicles related to Wisconsin automotive history is available for purchase. Our first subject is 83 year-old Gene Grengs of Eau Claire, WI, who owned movie theaters and began restoring cars with his grandfather and collecting them when still quite young. Gene is very knowledgeable and hands-on. He has several Packards, from 1910 to a '56 Caribbean convertible and even has the speed record-setting Packard Panther Daytona. He has two Stanley steamers, including what might be the very last one made (1924), a Model T made on the last day of production (1927), Cord, Auburn, Pierce-Arrow, '57 Corvette fuelie, etc. -40- plus cars in all, down from about 100 at one time. For a video preview go to: https://youtu.be/07MKNbGeiVQ. WSAH is selling DVD's of the full video for $19.95. To order contact the WSAH treasurer,
Gary Koehnke, WSAH Treasurer, 931 Beta Drive, Neenah, WI 54056-1357.
email: gary7140@att.net.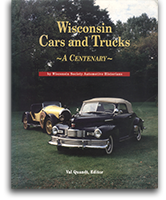 We published the book "Wisconsin cars and Trucks:
A Centenary" and produced the video "A Walk Through Automotive History With Chet Krause." Chet is the founder of Krause Publications (now F+W Media), publishers of Old Cars Weekly, and he is the founder of the Iola Car Show.

We recently began a membership information exchange and are planning professionally produced videos of some prominent Wisconsin automotive-related personalities, collectors, collections, and businesses.

The evolution of Wisconsin License Plates. Please visit our Wisconsin License Plate Photos and Trivia page. Images courtesy of Wisconsin Department of Transportation.